Chem Chem Camps Collection: Luxury Tanzania Safari Holidays
For you to enjoy luxury Tanzania safari in Lake Manyara National Park and Tarangire National Park make use of the Chem Chem collections. Chem Chem safari lodge is situated in a private concession, lying between Tarangire National Park and Lake Manyara.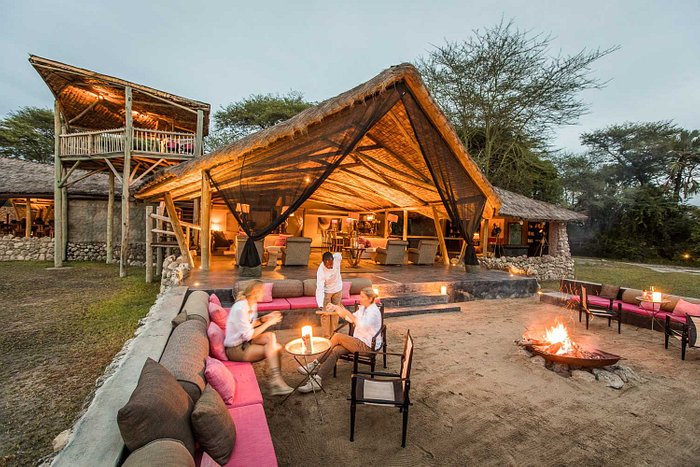 Chem Chem has done excellent conservation work by purchasing the hunting licenses in the corridor between Manyara and Tarangire, making it safe for wildlife to roam freely.
Without doubt, it's one of the favourite properties in Tanzania and clients who get chance to stay here have always been extremely happy. The eight spacious tented suites are tastefully decorated and have a deck and day bed that provide a wonderful area to relax and unwind.
Luxurious bathrooms include both indoor and outdoor showers and a comfortable bathtub. The lodge doesn't take children under 12, but accommodation for families with older kids is available.
Chem Chem Lodge offers sun downers at Lake Manyara, game drives, bush walks, and sumptuous dinners romantically served in different locations each evening. Guests can visit a Maasai village where the local community shows you their customary ways of life.
Day trips to Tarangire or the Lake Manyara National Park (1.5 hours away) can also be arranged. It also has two sister properties, Little Chem Chem and Forest Chem Chem, which border Tarangire National Park.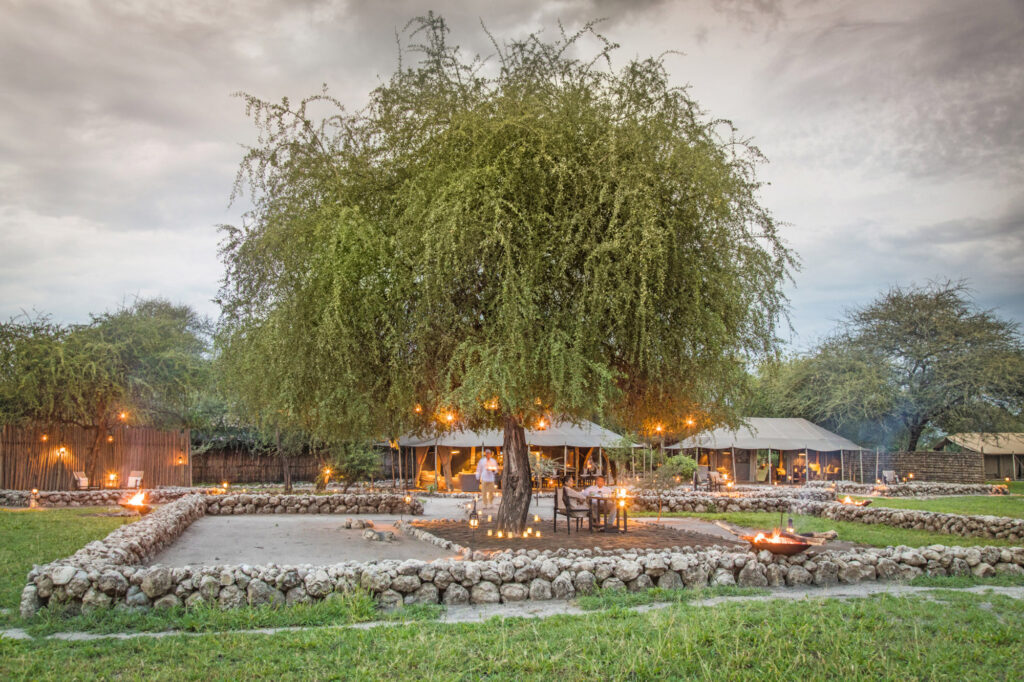 Little Chem Chem is Set amidst a canopy of ancient baobabs, this safari camp weaves understated luxury into every experience. Dine in the wilderness, and marvel at the abundance of wildlife surrounding you.
Known as the sunrise camp, Little Chem Chem lies on the eastern side of the WMA. It offers an authentic vintage safari in an elegant, supremely comfortable tented camp, accommodating a maximum of 14 guests in a game-rich location. Little Chem Chem is all about getting as close to nature as possible, without sacrificing comfort.
This intimate camp offers six elegantly decorated vintage tents, each with a large bedroom (three have king-size beds, two offer twin beds), and 1 larger Family Tent. Each is complete with a rocking chair and study desk, a vanity area with dressing room and an en-suite bathroom with a shower and flushing toilet.
Embrace the 'Out-of-Africa' atmosphere and listen as the sounds of an African night come to life all around to you. The camp is solar powered and unfenced allowing for game to move freely through the area which features a main tent complete with a lounge, viewing areas and magnificent dining.
As if that is not enough, explore at Forest Chem Chem a place where time seems to slow. Where long hours are filled with delight and discovery, and your sense of wonder is restored. A place where fleeting moments becomes lifelong memories. Where cultures are shared, and traditions celebrated.
This exciting new camp offers guests a unique opportunity to explore the space of the Chem Chem concession. Creating intimacy, the opportunity to connect around a crackling fire is at the centre of the camp. Unfenced and free, here wilderness and humanity meet in peace and comfort.
It is a place for families and friends to connect with each other, with the bush, with Africa and with themselves. Here, guests will discover even more opportunities to explore the game-rich areas bordering Tarangire National Park and Lake Burunge. Forest Chem Chem is only available on an exclusive use basis with 2 vintage tents, each with king sized beds which can be converted to twin beds and 1 Family Tent of up to 4 guests.
Each tent is complete with both an indoor and outdoor shower and easy access to the main camp fire, dining room and living spaces. The camp comfortably sleeps up to six adults and two children. Private game drives with personal safari guides mean the freedom to explore together with open vehicles on game-rich land. With exclusivity comes complete freedom! Forest Chem Chem is the opportunity to experience a bush camp of your own. Discover the essence of an authentic safari in Africa. So why not taking a luxury safari in Tanzania? When all the luxury facilities are ready to take charge!