Go Wild Rooftop Tent Car Camping in East Africa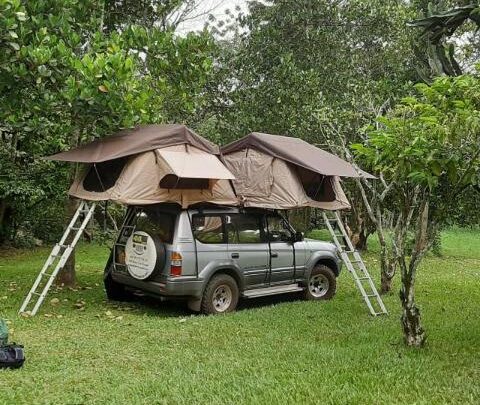 You can go wild camping in East Africa's most adventurous countries like Kenya, Tanzania, Uganda, and Rwanda during your self-drive holiday. Just check the rules first. Your 4×4 car rental Uganda company can always help you with that, offering you the best 4×4 Rooftop tent cars and ease your amazing wilderness camping. It is also recommended to read in advance about safe wild camping.
For the nature lovers and camping enthusiasts in search of real adventure, East Africa is undoubtedly the best place to be. Explore secluded and hidden gems, from the Masai Mara National Reserve in Kenya to the impenetrable forests of Bwindi in southwestern Uganda and get a close interaction with the endangered mountain gorillas.
Venture off the beaten track at East Africa's famous natural highlights, wildebeest migration of Masai Mara (Kenya) and Serengeti (Tanzania), exploring the beautiful Ngorongoro Conservation Area in Tanzania, the special tree climbing lions in Uganda's Queen Elizabeth National Park, as well as exploring Africa's largest lake, Lake Victoria, that resides in Tanzania, Uganda, and Kenya.
At night, you camp in scenic wild places, taking in the incredible starry night skies of East Africa and soaking up the peace and solitude of nature. The other following days, you will also journey through the breath-taking mountains of the region – Mountain Kilimanjaro, Mountain Kenya, and the Rwenzori Mountains – the three tallest mountains in Africa respectively. See ancient landmarks and extraordinary geological wonders formed many years ago; get a taste of traditional and contemporary East African culture and watch African wildlife and birds in their natural habitats.
The various campsites around and within East Africa's National Parks are among the best places to camp at during your self-drive trip/holiday. Most campsites have electricity, a campfire and water at the camp spots. There is often also a kind of concrete seat, but don't count on it and bring your own chairs. On one occasion you may sleep at a campsite with only a few spots and a private toilet building for each one! That's only an exception. Usually there are some main toilet buildings on the campsites.
In the East African national parks, some campsites are run by the countries' wildlife governing bodies well as others are private enterprises. When you travel in East Africa during the low season, you may not even need to book anything in advance but this is however recommended during high season as facilities and accommodations are ever on high demand.
A packing list for your wild camping trip
-A flashlight and headlight
-Your own sleeping bag or a sleeping big liner
– Quick-drying travel towels or a thin human towel
-Mosquito repellent as some campsites are located near waterholes which are unfortunately a great place for mosquitoes as well.
-A travel power plug
-A power car plugs to charge your phone and perhaps a music box in your car
-Flip-flops for the showers on the campsite
-Earplugs and an eye mask, if you are a light sleeper
-Cooking gadgets
-Cameras and memory cards
-Binoculars
-Maps and GPS
-Tooth paste and tooth brush
-Hand sanitizer
-First Aid Kit, among others.
Traveling through East Africa without camping
Is camping a bit too uncomfortable or too adventurous for you? Then you'll be able to sleep in the most beautiful safari lodges (in and around the Parks), often also on the same properties as the campsites.