Explore Tanzania Rwanda Safari Park By Air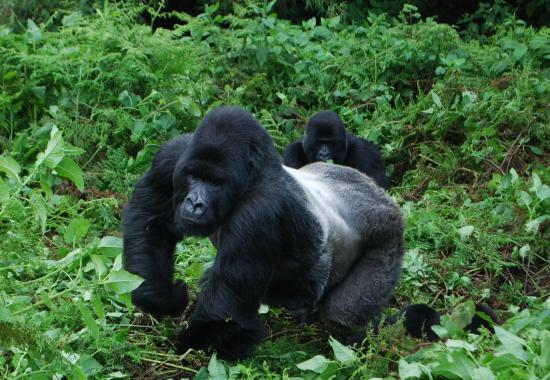 This Rwanda Tanzania safari allows you to explore the top highlights of Rwanda and Tanzania by air. Walk in the jungles in search of the gorillas in Volcanoes National Park Rwanda an activity referred to as gorilla trekking, enjoy chimpanzee tracking in Nyungwe Forest National Park Rwanda as well as wildlife in Akagera national park, walk among zebras in Lake Manyara National Park, and enjoy a wild game drive in Serengeti National Park, visit the Ngorongoro Crater as well as Tarangire National Park.
The safari starts in Rwanda and ends in Tanzania. On arrival at Kigali international airport, you will be welcomed by the driver guide who brief you about the safari arrangements then transfer you to your preferred lodge for overnight.
After an early breakfast, driver guide will drop you back to the airport for your domestic flight to volcanoes national park for gorilla trekking. Arrive and check in your preferred lodge, relax and also take lunch there. In the afternoon, take a community walk around Musanze town then interact with those people as you get to know their behaviours and practices. Dinner and overnight at your lodge.
Early in the morning after breakfast, transfer to the headquarters for briefing with your packed lunch. After briefing, you will start your gorilla trekking journey accompanied by the ranger guides in search of the mountain gorillas; this takes 2 to 8 hours depending on the movement of the gorillas. The guides will try to find them from where they were last seen the previous day! You will spend 1 hour with these gentle giants and later return to your lodge to refresh and relax.
Take another flight to Nyungwe forest national park for chimpanzee trekking. Enjoy breakfast and go for briefing before entering the forest, searching for the active and playful fellows in Nyungwe forest. The Chimpanzees are easy to spot, as they jump from one tree to another, chattering and laughing. Chimp tracking usually takes about 3 hours. You will then transfer back to Kigali with lunch en-route.
Take another flight to Akagera national park for the big five adventure. Akagera National Park is Rwanda's only Big Five destination, which means that it hosts populations of lion, leopard, elephant, black rhino and buffalo. It is also at present a rather underrated safari destination, but rapidly recovering from years neglect following the reintroduction of lions in 2015 and black rhino in 2017.
Big Five aside, the park offers great general wildlife viewing, with the likes of Maasai giraffe, Burchell's zebra, warthog, olive baboon, vervet monkey and 11 species of antelope are all regularly seen on game drives. Easily explored by boat, the lakes of Akagera also host plenty of hippos and crocs, and a wide variety of water birds including the iconic shoe bill.
Take another flight to Arusha for your Tanzania adventure. Your guide in Arusha will welcome you, brief you about your safari and drive you to your hotel for dinner and overnight at your preferred lodge.
Take a flight to Tarangire national park which begins your wildlife viewing experiences in Tanzania. After checking in at your lodge in the national park, you will prepare to have your lunch before heading out into the wilderness of the national park.
During your game drive, you will see different wildlife species grazing and roaming in the national park such as lions, giraffes, antelopes, giraffes, lions, leopards, buffaloes, wildebeests, elands, elephants, cheetahs, impalas and a variety of bird species can also be seen especially around the Tarangire National Park. As you enjoy the sunset and scenery around you, your guide will dive you back to your lodge for dinner and overnight.
Another flight to Lake Manyara national park. After lunch, you will have a game drive to search for wildlife species in this national park such as elephants, gazelles, buffaloes, hippos, antelopes, water bucks, hartebeests, warthogs, hyenas, giraffes, elands, impalas among others. You will also see various bird species during your game drive in Lake Manyara national park. You will return to your lodge for dinner and overnight after your game drive.
Another flight to Serengeti national park. You will see different wildlife species during your en route game drive in the open Savannah plains on the way to your lodge. You will have lunch at your lodge as you prepare for an afternoon game drive.
During your game drive in the national park, you will enjoy the beautiful scenery such as the kopjes where lions can be seen as they watch their prey. You will also see various wildlife species such as elephants, buffaloes, warthogs, hyenas, giraffes, wildebeests, antelopes, impalas among others during your game drive. You will proceed to your lodge for dinner and overnight.
Take a flight to Ngorongoro national park. You will have an optional visit to Ol duvai gorge which is an archaeological site where evidence of early man relating to human evolution was discovered by Dr Mary and Louis Leakey.
Your lunch will be served before you descend to the Ngorongoro crater to see different attractions such as Lake Magadi which is found at the centre of the crater. As you explore the Ngorongoro crater, you will also see flamingos along the shores of Lake Magadi in big numbers as well as other bird species. You will also see wildlife species in the crater area such as elephants, buffaloes, rhinos, zebras, water bucks, antelopes, hyenas, gazelles, kudus, predators such as lions, leopards, cheetahs. You will also enjoy beautiful views of the scenery around you as you explore the Ngorongoro conservation area. You will then proceed to your lodge for dinner and overnight.
Back to Arusha and take a drive around Arusha to experience the town and to interact with the locals and also visit the local market, the art and craft centres and the museums. Then departure to your home.