Road Tripping Holiday across Tanzania 2022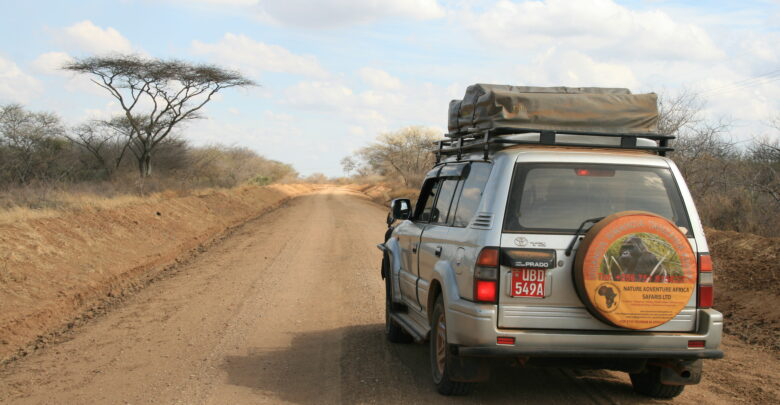 Tanzania is the land of African safaris, with wildebeest stampeding across the plains, hippos jostling for space in rivers, elephants kicking up dust and chimpanzees swinging through treetops. More than anything, though, it is the people that make a visit memorable. Any road trip in Tanzania is just is a lifetime memory as you take your time to deeply get exhausted with the place.
More so for travelers not to explore Tanzania on self drive holidays we do also offer much interesting the escorted Tanzania tours and staying in some of our partner Lemala camps Tanzania either on road or flying option.
Looking for the best Luxury Tanzania Rwanda safari is so amazing as on this safari itinerary you will have both experiences that is the great wildebeest migration and the mountain gorillas in the Volcanoes National Park, Rwanda.
Tanzania is home to almost half the world's remaining wild lions, and around one-fifth of Africa's surviving elephants. Then there are the two million wildebeest and zebra that migrate annually through the Serengeti ecosystem, embarking on the dramatic mass calving and chaotic river crossings that make it one of the world's greatest wildlife spectacles.
Prepare to fall in love with Tanzania's national parks to get you to the heart of Africa, with amazing travel experiences and the best planning advice.
Serengeti National Park
This world famous national park, notable for its million strong migratory herds of wildebeest and zebra, is the linchpin of the popular northern safari circuit. It also harbours large numbers of predators; it is not unusual to see lion, leopard, cheetah, spotted hyena, bat-eater fox and a couple of jackal and mongoose species in the same day.
The Serengeti is so vast that any sense of overcrowding in this popular park is restricted to the Seronera area in the south east. The northern and western Serengeti have more of a wilderness feel, with surprisingly little tourist traffic around, except when migration passes through them. Numerous lodges and campsites are dotted around the park.
Mount Kilimanjaro National Park
After Serengeti National Park, Tanzania's next tourist attraction is Kilimanjaro, which is normally climbed over five to seven days. A Kilimanjaro climb is one of those things that you either do or don't want to undertake, for a significant minority of travelers, climbing Kilimanjaro is the main reason for visiting Tanzania, but for the majority it is of little interest.
If you want to do a Kilimanjaro climb, it can be organized in advance through any number of tour operators and safari companies. To combine a Kilimanjaro climb with a few days on safari and a visit to Zanzibar, you would need an absolute minimum of two weeks in the country and even that would be very tight, allowing for no more than two nights on Zanzibar.
Ngorongoro Conservation Area
This dual-use conservation area – inhabited by the Maasai and their cattle as well as wildlife- protects a large park of Ngorongoro highland, including the magnificent Ngorongoro Crater, the largest intact caldera in the world. Ngorongoro Crater supports the world's densest population of lions and spotted hyena. It is the place in Tanzania where black rhinoceros are reasonable easy to see and is also notable for its magnificent old tuckers, a rare sight today elsewhere in Tanzania.
Mikumi National Park
Mikumi is Tanzania's fourth-largest national park. It's also the most accessible from Dar es Salaam. With almost guaranteed wildlife sightings, it makes an ideal safari destination for those without much time. Most visitors come to Mikumi National Park aiming to spot the 'Big Five' (cheetah, lion, elephant, buffalo, and rhino), and they are always not disappointed.
Hippo pools provide close access to the mud-loving beasts, and bird-watching along the waterways is particularly rewarding. Mikumi National Park borders the Selous Game Reserve and Udzungwa National Park, and the three locations make a varied and pleasant safari circuit.
Lions survey their grassy kingdom – and the zebra, wildebeest, impala and buffalo herds that migrate across it – from the flattened tops of termite mounds, or sometimes during the rains, from perches high in the trees. Giraffes forage in the isolated acacia stands that fringe the Mkata River, islets of shade favoured also by Mikumi's elephants. Criss – crossed by a good circuit of game-viewing roads, the Mkata Floodplain is perhaps the most reliable place in Tanzania for sightings of the powerful eland, the world's largest antelope.
Mikumi National Park is also a birding paradise with more than 400 bird species have been recorded, with such colourful common residents as the lilac-breasted roller, yellow – throated long claw and bateleur eagle joined by a host of European migrants during the rainy season. Hippos are the star attraction of the pair of pools situated 5km north of the main entrance gate, supported by an ever-changing cast of water-birds.
Selous Game Reserve
This is one of Africa's largest game reserves, a wilderness area bigger than Denmark or Switzerland. The reserve covers more than 5% of Tanzania's total land area, and are there times larger than the Serengeti. Although slightly off the beaten track of the more well-worn safari circuits, a visit to the Selous offers unforgettable game viewing in almost completely isolated surroundings.
This reserve was named after Frederick Selous Courtney who was a great Hunter and explorer. Selous Safari Holidays are highly recommended as in size this reserve is twice the Serengeti National Park in Tanzania and three times Kruger National Park in South Africa.
Activities in this park include walking and boat safaris, as well as traditional game drives, are on offer to visitors to the Selous' small and remote camps and lodges, with little chance of bumping into any sign of human life. During a game drive or walk one might be lucky enough to see a pack of African wild dogs, disappearing throughout Africa but thriving in the Selous. Selous is celebrated for its abundant and varied birds. The most conspicuous bird life is to be found around the constantly change pattern of sandbank, oxbow lakes, lagoons and channels along the Rufiji River.
Tarangire National Park
This park is impressively spectacular for its famous concentration of wild animals especially the elephants and it is also one of the finest birding destinations in East Africa. Tarangire is noted as a safari destination for its large concentration of wildlife population. Animals like elephants, eland, giraffe, lions, buffalo, cheetah, leopards and zebra are easily spotted when you are in four-wheel drive.
The park can be accessed by road or air. The park has remarkable attractions with large groups of Elephants, spectacular natural beauty of Savannah landscape and magnificent majestic Baobabs. Over 550 different bird species have been recorded in the park, of which several are threatened or endemic.
What to do and see in Tarangire National Park
Tarangire National Park has different activities that can be done once you have arrived at the Park. These activities include day game drive, night game drive, walking safari, Filming and Photographing, Bush-meal, Hot air balloon safari, Bird watching and Picnicking.
Walking Safari
This gives you a more learning experience about animals within the bush land and a better way of spotting animals within the bush land and a better way of spotting animals at a close range. It is mostly done in the morning and evenings and brings about a different scope and sense of adventure. It also conveys a different dimension in the whole safari experience.
Balloon safari
Balloon air flight in Tarangire will give you a different experience. Moving across Tarangire River on your tour as the sunrise stains the plains pink, the golden grassland dotted with giant baobab trees, the silver ribbons of the rivers and animals congregate in their hundreds in the early morning; all these make you be park of the natural world.
Tarangire River; is the only sources of water for thousands of animals in the dry season thus offering a fantastic game driving experience.