When to Go on Kenya Wildlife Safari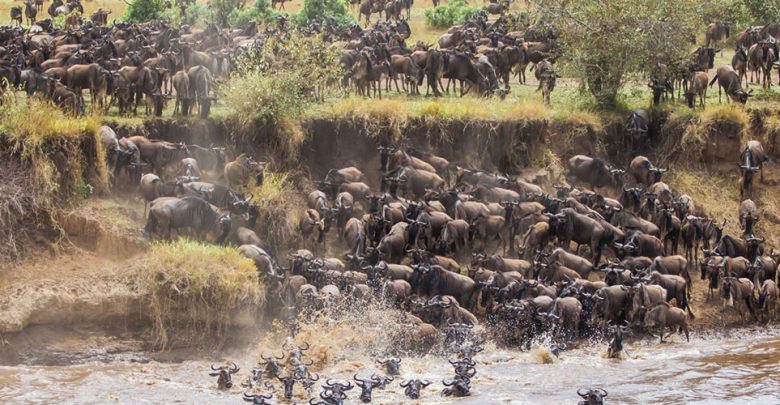 Kenya has a number of national parks and reserves that host a wealth of wildlife species, but the most visited in the country is called MAASAI MARA NATIONAL RESERVE, a protected area known for its abundant wildlife.
The park boosts a large quantity of wildlife species and bird species making it the most ideal place for wildlife safaris in Africa according to the recent findings.
The best period to go on a Kenya wildlife safari is in July, August, September and October and earlier in November.
That is the best period to go on a Kenya wildlife safari because it is the time when the great migration happens of which the migrants come from SERENGETI NATIONAL PARK of Tanzania which lies in the southern of MAASAI MARA NATIONAL RESERVE of Kenya.
These two Parks lie in the same ecosystem and they are permanently attached to each other. Therefore it is no surprise that animals move from one Park to another in search of good pastures.
Usually a large number of wildlife species are seen crossing to Kenya's MAASAI MARA which is the northern extension of Tanzania's SERENGETI NATIONAL PARK.
The two Parks are the best in East Africa and they host the highest number of wildlife species in East Africa though the Northern part of the ecosystem which lies in Kenya (MAASAI MARA) is the best even in Africa.
The mostly seen migrants during this great migration are the Wildebeests which move in high numbers of over 1.7 million Wildebeests.
Other major migrants are over 200,000 Zebras, over half a million of Thomson's gazelles, 97,000 Topis and over 18,000 Elands.
Therefore, to view this great migration you are emphasized to book earlier before one of those months which expose the large number of wildlife crossing to Kenya of which they are viewed in plenty.
If you plan for a wildlife safari in one of those months, expect to view a large population of wildlife species of which you will also be able to view a large number of Africa's big five which include; African Lions, African Elephants, Leopards, Cape buffaloes and Rhinos. These are also seen in plenty thus making your wildlife in Kenya a memorable one.
The Reserve also boosts a high population of bird species (over 470 bird species) including; horn bills, Secretary birds, Ostriches and others.
Other wildlife species are also seen in plenty and these include; Cheetahs, Reticulated giraffes, Hyenas, Bat-eared foxes, Roan antelopes, Coke's hartebeests, Grant's gazelles, Impalas and many others.
During the period/months of the great migration in Kenya, the country receives very many visitors who go there to enjoy the great migration and large number of wildlife species in Kenya's national parks especially MAASAI MARA NATIONAL RESERVE and AMBOSELI NATIONAL PARK which also boosts a large number of elephants in Africa.
Therefore, be one of the lucky tourists to view the wide range of animals during the migration and book with Eco Tours Kenya for better and quick services.
The agency will provide you with the vehicle of your choice to be used during your safari and some of the distributed vehicles by the agency include; Land Cruiser, Prado, Coaster buses, Super Customs, Vans, V8, VX, Rav4 and others.
Order for your desired vehicle as early as possible such that you get your desired vehicle since during that period many other tourists may like to book and if you book late, you are most likely to get disappointments thus missing out your tour.
However to in Kenya for wildlife safaris, you are emphasized to first know its security and political instability because a wildlife safari is more enjoyful when you have good security and when a country is stable politically such that you may not end up losing your life in the safari.
Therefore, stableness in the country matters before you go for a safari and you are advisable to inquire from your tour agency the stableness of the country plus its security at large plus even in the Parks.
However, currently Kenya is a very stable country politically and in terms of security Kenya still possesses a tight security both in the Parks and outside the Parks (Country at large) making it an ideal country for wildlife safaris backed up with its large number of wildlife species in her Parks.